50th ANNIVERSARY POEMS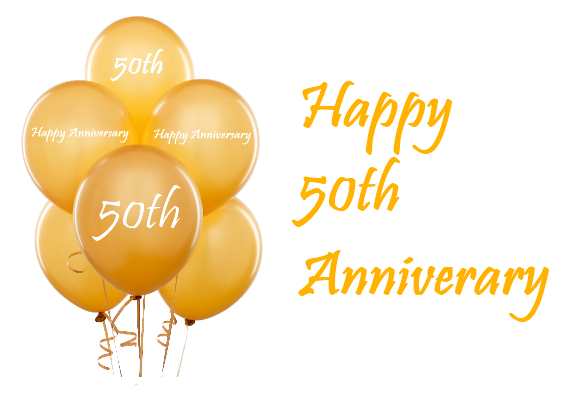 They have shared their love for half a century. Our 50th Anniversary Poems collection celebrates this golden milestone with words of love, praise, and best wishes. These thoughtful sentiments from the writers at My Word Wizard will let them know how much how much joy and inspiration their love brings to all around them.
Keeping the flame alight for 5 decades is no small achievement. Tell them how much you share in their celebration with these expressions of happiness from My Word Wizard.

A Golden Milestone
Each year together is a milestone
Each decade is an accomplishment
On your 50th anniversary celebrate victory
You have done something that not many have.
You have stuck by each other
through thick and through thin.
Your love has seen you through it all
And you have reason to celebrate.

Celebrate Together
Nothing is more special than a 50th anniversary.
Here's hoping that yours is special and memorable
That you enjoy the company of family and friends
And that it's a day that you will never forget.
You have had a good, long life together
And have reached this day despite sorrow
Despite hardships and pain beyond measure
And you deserve the chance to celebrate.

A Precious Gem
Each anniversary is a precious gem.
When you reach your 50th anniversary
It's the gold that encompasses the others.
Treasure the time that you have together
Love, laugh, and hug each day
And you will have many more years to spend.

Something to Celebrate
A 50th anniversary is a rare treasure.
It usually doesn't happen, so
When it does it's something to be celebrated.
Here is hoping your anniversary
Is memorable, is amazing and is as special
As the two of you are and always will be.

Happiness
Today is a celebration
of something very rare.
You've been married 50 years
And your happiness we share.
So here's to a special couple.
May your happiness live on.
And may you kiss each other
Every dusk and every dawn.

Poetry by Sharon Hendricks