SURREALIST POEMS AND THE BEAUTY OF ABSTRACT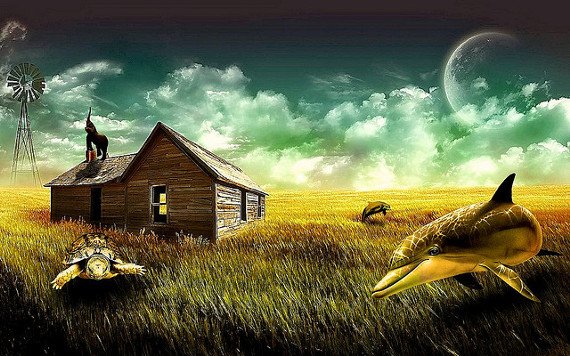 Surrealist poems are part of a larger creative movement called surrealism that arose during the 1920's in Paris. The creative output is exemplified by "unexpected juxtapositions and non-sequitur." The artists in the movement experimented with "automatic writing – spontaneously writing without censoring their thoughts." It has strong associations with the Dada artistic grouping.
The movement's principles were best laid out in André Breton's Surrealist Manifesto in 1924.

This creative genre is so compelling that we were delighted when poet Candice James offered to publish five of her surrealist poems on our site. Ms. James is the Poet Laureate of The City Of New Westminster, in British Columbia, Canada. She is also Director of Royal City Literary Arts Society; Past President of the Federation of British Columbia Writers; Past President of Slam Central Spoken Word; Past Director Of SpoCan

James is the Author of 4 poetry books:"A Split In The Water"; "Inner Heart – a journey"; "Bridges and Clouds"; and "Midnight Embers – a book of sonnets" which has been nominated for the 2013 "Griffin Award for Excellence In Poetry". She is also recipient of the Writers International Network "Distinguished Poet Award" 2013.

Candice has been featured on radio, television and stage and her poetry has appeared internationally in a variety of anthologies, magazines, newspapers, and e-zines. She has led online forums, facilitated blue pencils, workshops and seminars, reviewed books and written prefaces for authors and poets internationally. She has served on panels for "Word On The Street", "Lit Fest New West", and "Black Dot Roots Cultural Collective" Candice also organizes and hosts National Poetry month for the League of Canadian Poets annually.

You may visit the poet's website at: http://candicejames.shawwebspace.ca
We are honored to feature Candice James' surrealist poems and we are sure you will enjoy.
Eddying
In the core of the whirlpool,
Eddying down,
Flames of green and yellow
Burn new pathways
For those who walk on coals,
Those with scarred feet.

Under the pier
The water runs cold,
Slapping and licking the pylons
With soft sadistic kisses.

On the surface,
Air bubbles surfacing,
Punctured,
Reborn,
Punctured again
Akin to the hearts of those who suffer

Under the skin
Rivers gone dry
Passions burned out,
Flames to embers
To sparks,
To ashes.

In the eye of the hurricane
Wandering through the chaos
Those with closed eyes.
Those with scarred souls
Eddying,
In the core of the whirlpool

©

Candice James 2012
Now and Then
Time winks,
Creases
Then folds.
The sun dances and swirls
In shimmering slippers
On a diamond studded crystalline Ocean
Gulls cry on high
Clouds sigh through the puffed moist lips
Of a slow breathing sky
White doves centre,
Then scatter in flight;
Splashes of luminous bright,
Bleached origami pillows,
Flung onto powder blue sheets
Somewhere,
A lost dream
Is winding its way home
Time winks,
Creases
And folds
Now and Then.
© Candice James

2013
Copper Dragon Sky
The copper dragon sky
Breathes a soft sigh
Alive with burnt rose offerings
To fill the hungry eye and haunted heart.
Yesterday's dust is spiralling
Through invisible melodies of familiar songs,
Songs dripping from wounded angels' wings
In a pale trail of pooling tears.

There is no rain in this corrupt sky,
Only pain borrowed from distant clouds
That threaten to swallow the burnt rose offerings
In a voracious gulp of gray penitence
Reminiscent of vigilante justice.
Crimes of the heart never disappear,
They are beyond escape or redemption.

There are no saviours in this corner of the universe.
The milky way is fading, fading.
The stars have gone into hiding.

The shadow trees stand tall,
Whisper of future days.
They are filled with hope.
I stand indistinct in my shadow
Whispering of past dreams,
Filled with the cold ash residue
Of the burnt rose offerings
That slipped through my hands like sand;
Waiting for the copper dragon sky
To take my breath away.

©

Candice James 2011
Fading Fingerprint (for Janet Kvammen)
Modern day Renoir splashes
Resurrected from ashes;
Coloured alive hillside
Reflecting like pebbles,
Eddies in time and tide;
Beneath translucent, glistening eye
Refracting a copper, renaissance sky
The water ripples and whispers
Like an old man rubbing his whiskers;
An abandoned church in the vale
With cross to the mast and sail.

I gaze into the future of days.
I see the disasters and the plagues
Shaking the four corners of the earth,
Spread of destruction and wanton dearth.

And, the people have disappeared
Inside the moment they feared;
This moment of silence
That followed the violence
And stopped their hearts from beating.
Nature finally defeating
Those who threw caution to the wind;
Each non environmentalist as they sinned.
Turning unforgiving wheel of fate,
Finally paying a price too great.
Not one human eye left to shed a tear,
Just a faint fading fingerprint....
We were once here.

©

Candice James 2011
Wounded Elegy
Balancing on a jagged pinnacle,
Torn footprints,
Frail body,
Shadow smudged
Against a gun metal sky.

A wounded elegy,
In decaying prosody,
Grasping at the blunt needles of
A dissipating cloud
Too far.

Comes an angel's lament:
Ghostly dark sonata;
Melting in peppered snow;
Exuding the aftermath
Of an icy kiss,
Vapid and vaporless;
Invisible to starlight.

A wounded elegy
Drifts aimlessly
On a forbidden wind,
Colorless, passionless.
A copper moon
Haloes the black.
Wrists shackled,
Heart stabbed,
By dried ink and blood,
The shadow teeters
Stumbles,
Falls,
And finally,
Embraces the abyss.


©

Candice James 2011
The Depth of Her Fall
White time cracked
Building to black
Raindrops unstacked
Clouds come untacked
From weakened sky
In secretive lie
The lure of the lonely
Touching one only
In gossamer nightgown
Without throne or crown
Becoming a satin doll
In the crest of her fall
Barely alive
But she will survive

Atmospheres, altars
Horses, thrown halters
Saddled up for the ride
Through eternal tide
Tears polished to shine.
Breath flavoured with wine
Sweet inebriation
Seeking expiation
This deep black chasm
Tick-tocking spasm
Holds court every night
Squeezes the light
Into lost works of art
Painted for her dark heart

Torn dreams on parade
In dull masquerade
Winter wind of the soul
From unblessed hell hole
Chasing her to the edge
On precarious ledge

Now back to the wall
Soon she will recall
The depth of her fall


©

Candice James 2011
We are so very grateful for this generous contribution of surrealist poems by poet Candice James. We are honored she has chosen us to feature her wonderful work. Ms. James owns all rights to the individual pieces and no portion of her writings may be used without her express permission.


*Background information on Surrealism and surrealist poems courtesy of Wikimedia.