A Bird in cage
by syed shah Hussein
(Attock pakistan)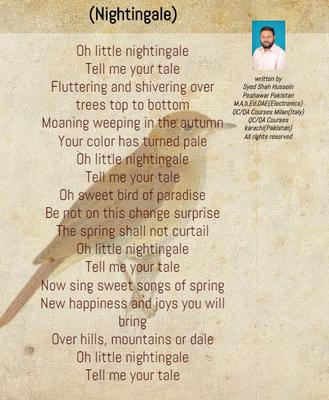 Poem (The bird in a cage)
Listen to my story of how I forgot
the days of freedom and nights
I would fly with open wings
and follow birds through woods in sprite
Hither and thither,
fluttering over gardens, mountain and trees
And listening to sweet songs
of nearby birds, flying bees
Unfortunately those cruel trapped me
and wrapped my desires
And put me in prison
a cage of woods and wires
Currently I miss sweet voices of my fellow birds
That hurt me too how can I express it in words?
Like prisoner my tears Flow down as dew
And lost the freedom of nest and sky blue
How can I forget fruits?
And eating sunflowers seeds
And bringing cucumber, melon,
Wheat and grains for my breeds
In thousand pieces my heart is broken
by listening to their words
Compare my cries, sighs,
and tears with free fellow birds
Oh my GOD takes pity on me
and give me freedom from this cage
Otherwise I may die in these hard,
sharp wires in this age

©2020 @syed Shah Hussein.