Acrostic Poetry for Kids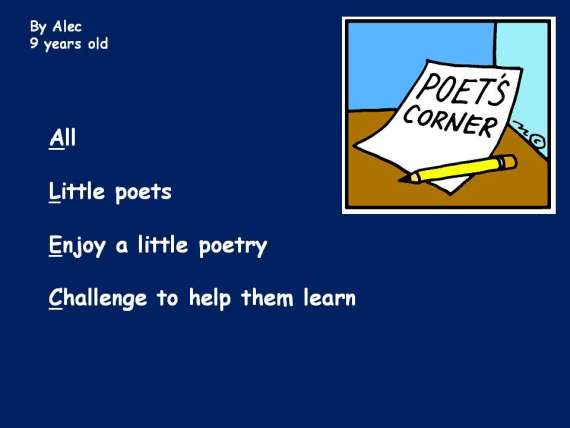 Teachers are always looking for new, innovative ways to teach their students poetry in the classroom. Acrostic Poetry for Kids is a resource tool developed by My Word Wizard that teachers can incorporate into their lesson plan to teach poetry to kids.
Learning poetry at an early age can be beneficial to a child's development. Try teaching some of the ideas presented below and then have your students submit their own work to be shown on My Word Wizard!
Acrostic Poem
An acrostic poem is a beginner's level poem great for budding young poets. In this type of poem the first letter of each line spells out a word. The poem may be a series of single words as in the example below, or may be a series of sentences or phrases.

Example
:
JEANNE
J
olly
E
nergetic
A
cademic
N
ice
N
eat
E
fficient
TASK
: Have your students write their own Acrostic Poem using their name and/or surname. Ask them to include visual images to illustrate each of the words included in the poem!