GOTHIC LOVE POETRY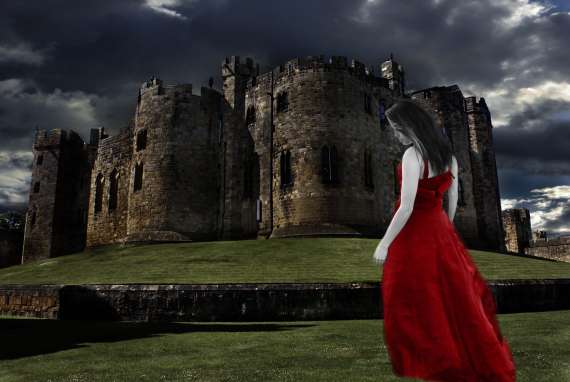 You are a dark Knight. She, a pale vampiress clad in red. Our Gothic Love Poetry collection captures the very essence of your foreboding desires. Your nocturnal wanderings. Your deep lust for one another.
With a bond sanctified in blood, you know passion in a way that others can only dream about. You are not satisfied with the ordinary mores of amour. You explore the darker side of passion. Your quest is a deeper love that sates your carnal desires.

We think you will enjoy these ominous verses of the night.

Gothic Love Poetry. Written especially for you.
My Love
I approach the room
Just beyond the door
Darkness
Always looking for my love
Cobwebbed walls look intently upon me
Admonishing
Urging me
Run
Yet I will not leave without you.
The moon peers
through a broken window
Casting its blue light on my pallid skin
Blood red lips yearn to kiss you
Fingernails painted the shade of death
search in vain for your frail shoulders
Wine on the mantle
the color of deep crimson
A half drunk glass
A knife
A scream
I will never leave without you

A Dark, Dark Kiss
Amber eyes
chilling
Russet and copper tints
peer out of skin white as powder.
The look of a nocturnal being.
I lock my gaze on their piercing, empty stare.
They draw me in.
I am powerless to resist.
She
Ophelia
in crimson red corset,
lies motionless on a bare wood floor,
covered in dust.
She invites me to imbibe her sacred charms
Have I no free will?
I approach
Slowly
Steadily
Her icy visage warns me to turn back
But there is no turning back
I am inches above her
She commands in silence
Her dominion absolute
At last
I can no longer fight what is preordained

A dark, dark kiss

Lady of the Moors
High on windswept moorland,
bathed in a sinister, unforgiving winter
She stands alone against the gale
Clad in black cape and white ruffled gloves
A teardrop-shaped hat of black roses
covers her hair.
From the valley below
her figure appears ghostly.
Her skin, so pale
stands in relief against the gloomy landscape
One can just make out her cries.
At a distance they are merely a whimper.
I approach
A bolt of thunder
She is gone
I love her

Rutherford's Maiden
Rutherford insisted I follow him
into the night.
It was the safest way.
Off the old Whitechapel Road
through murky East End streets.
Past an abandoned building,
once a public house,
two Corinthian pilasters flanking
tripartite windows on both upper floors.
A scream from inside
My squire turned to see me cower
He opened his Victorian Greatcoat
and drew me inside clutching,
my bare shoulders.
My black knight.
I looked up at his ashen face,
darkened slightly under the
shadow of a woolen Top Hat
He smiled
A deathly smile outlined by crimson lips.
He asked, "Do you like the night?"
I did not answer
He asked again, "Do you like the night?"
Silence
A scream
I lay on the ground
half aware.
He knelt over me
"Perhaps the night does not agree with you?"
Silence
Rutherford declared his love eternal
We would never, never part
He bent closer toward me
Gently, lovingly, lifting a few locks of
coal black hair off my neck
I was his insatiable quest
Now his hunt was over
I was his to love.
Rutherford's maiden
Forever

My Gothic Love
I spend my days dreaming of you
My Gothic Prince
For night is when we roam
When our nocturnal souls unite,
and when our dark journey begins.
I dream of your scarlet lips pressing
against my pale neck,
my vampire of love.
You are my evil prince clad in black
You darken a room by the strength of your presence
I succumb to your whims without a struggle,
without regret.
We are bound by our love.
Our very essences are nourished
in the consecrated blood of our mortal bodies.
Love for us is dark
Foreboding
Together we carve a path toward a dark eternity
None dare tear us apart
My Gothic Love

Poetry by Alan Loren