IRISH QUOTES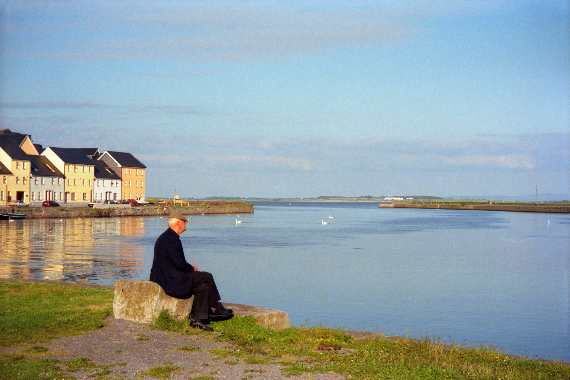 Ballyknow Quay, River Corrib, Galway, Ireland
Irish Quotes, proverbs, blessings and epigrams have fans throughout the world, and not just people with roots on the Emerald Isle. The Irish have always been known for their keen wit and sense irony, as well as literary abilities.
Even in earlier days when poverty was prevalent and schooling limited, ordinary folks cultivated a rich oral tradition of tales and sayings that still resonate with us today.
Sayings from Ireland are especially in demand during the celebration of St. Patrick's Day, which takes place each year on March 17. However, people enjoy Irish quotes year round as a source of inspiration and enjoyment.
The editors at My Word Wizard have collected a wonderful assortment of Irish quotes that speak to topics such as love, marriage, jealousy, anger, goodness, and so many more. Though many of these Irish quotes were written long ago, the subjects still have great relevance for us.
We hope you enjoy this wonderful assemblage of Irish quotes.
Céad Mile Fáilte!
(A Hundred Thousand Welcomes!)

A feast is no use without good talk.



There are only two kinds of people in the world, The Irish and those who wish they were.



May the enemies of Ireland never eat bread nor drink whiskey, but be afflicted with itching without the benefit of scratching.



Continual cheerfulness is a sign of wisdom.



May the roof above us never fall in, and may we friends beneath it never fall out.



Here's to me, and here's to you. And here's to love and laughter. I'll be true as long as you. And not one moment after.
The Irish do not want anyone to wish them well; they want everyone to wish their enemies ill.
The stars make no noise.
Where the tongue slips, it speaks the truth.
Here's to you and yours, And to mine and ours, And if mine and ours ever come across you and yours, I hope you and yours will do as much for mine and ours and mine and ours have done for you and yours!
You'll never plough a field by turning it over in your mind.
You've got to do your own growing, no matter how tall your father was.
A covetous eye never got a good bargain.
May your thoughts be as glad as the shamrocks. May your heart be as light as a song. May each day bring you bright, happy hours. That stay with you all the year long.
A 'thank you' doesn't pay the fiddler.
The longest road out is the shortest road home.
May the cat eat you and may the devil eat the cat.
Mountjoy Square, Dublin
It is often that a person's mouth broke his nose.
If you're lucky enough to be Irish, then you're lucky enough.
A son is a son till he takes him a wife. A daughter is a daughter all of her life.
Who gossips with you will gossip of you.
There are fish in the sea better than have ever been caught.
It is better to be a coward for a minute than dead for the rest of your life.
A good laugh and a long sleep are the two best cures.
Don't give cherries to pigs or advice to fools.
A silent mouth is sweet to hear.
Ruined Farm on Omey Island, Ireland
Here's Céad Míle Fáilte to friend and to rover
That's a greeting that's Irish as Irish can be
It means you are welcome
A thousand times over
Wherever you come from, Whosoever you be
There are only three kinds of Irish men who can't understand women— young men, old men, and men of middle age.
No man ever wore a scarf as warm as his daughter's arm around his neck.
A family of Irish birth will argue and fight,
but let a shout come from without,
and see them all unite.
An Irishman has an abiding sense of tragedy which sustains him through temporary periods of joy.
"The Irish are a fair people; they never speak well of one another."
- Samuel Johnson (1709-1784)
"He is always in the field when luck is on the road.
He who is not strong must needs be cunning.
May you get all your wishes but one so you always have something to strive for.
Kilkenny v. Tipperary (All Ireland Hurling Final 2011) Image by: Cathal Noona/INPHO
Distant hills look green
He is bad that will not take advice, but he is a thousand times worse that takes every advice.
A man is often a bad adviser to himself and a good adviser to another.
As you slide down the banister of life, may the splinters never point in the wrong direction
The reason the Irish are always fighting each other
Is they have no other worthy opponents.
May you live as long as you want,
And never want as long as you live.
Here's to a fellow who smiles
When life runs along like a song.
And here's to the lad who can smile
When everything goes dead wrong.
An old Irish recipe for longevity:
Leave the table hungry.
Leave the bed sleepy.
Leave the table thirsty.
Always remember to forget
The things that made you sad.
But never forget to remember
The things that made you glad.
Always remember to forget
The friends that proved untrue.
But never forget to remember
Those that have stuck by you.
Always remember to forget
The troubles that passed away.
But never forget to remember
The blessings that come each day.
Stephen's Green Shopping Center, Dublin (Image by Marek Ślusarczyk)
Tis better to buy a small bouquet
And give to your friend this very day,
Than a bushel of roses white and red
To lay on his coffin after he's dead.
It's easy to be pleasant when life flows by like a song.
But the man worth while is the one who can smile
When everything goes dead wrong.
Always remember to forget
The things that made you sad.
But never forget to remember
The things that made you glad.
Always remember to forget
The friends that proved untrue.
But never forget to remember
Those that have stuck by you.
May you have:
No frost on your spuds,
No worms on your cabbage.
May your goat give plenty of milk.
And if you inherit a donkey,
May she be in foal.
Murphy's Law:
Nothing is as easy as it looks.
Everything takes longer than you expect.
And if anything can go wrong,
It will at the worst possible moment.
May you live all the days of your life.
- Jonathan Swift (1667-1745)
Sayings compiled by Alan Loren
*Irish quotes from various sources