LALALOOPSY DOLL POEMS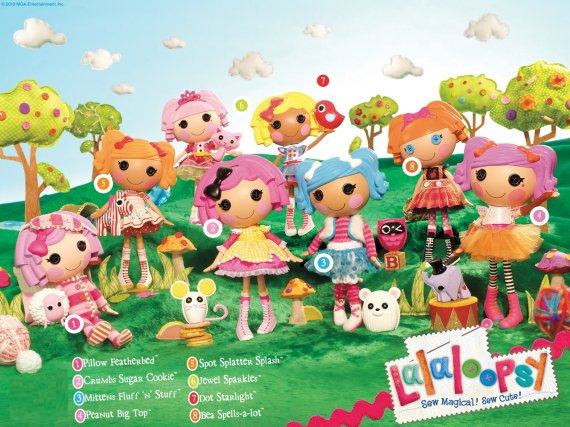 They are every little girl's dream for the holiday. Lalaloopsy Doll Poems capture all the sweetness and personality of these lovable little ragamuffins.

Though they were once rag dolls, each of these eight precious little things came to life when they were fully stitched together. Each took on the personality of the material used to create her.

We think you'll love these special poems from the writers at My Word Wizard. We invite you to share in the fanciful world of these magical characters.

Spot Splatter Splash
She's always creating
She's self-depreciating
Her three names begin with the letter "S"
She has a pet zebra
Who's not an amoeba
When she eats spaghetti she sure makes a mess
Crumbs Sugar Cookie
She's as sweet as a cookie
She never plays hooky
Her manners are sure to impress
She has a pet mouse
Who lives in her house
Her apron always covers her dress
Pillow FeatherBed
She's made from a blankie
That isn't a hankie
Milk and cookies are her favorite snack
She has a pet sheep
Which she counts in her sleep
Her least favorite color is black
Peanut Big Top
She loves to play pranks
But always says thanks
She's been known to fall down in the street
She always stays relevant
She has a pet elephant
There's no finer doll you can meet
Mittens Fluff 'N' Stuff
She runs in the winter
Though she is no sprinter
She drinks hot cocoa next to the fire
She has a pet polar bear
Of whom she takes lots of care
Just be careful not to raise this bear's ire
Bea Spells-a-Lot
She never gets bad grades in school
She knows anything less isn't cool
The rules she does follow
She'll talk till tomorrow
While her pet owl sits on a stool
Jewel Sparkles
She's just like a princess
Though she never ever winces
She comports herself with grace and aplomb
With sparkles on her dress
She acts like a baroness
And her Persian cat that is definitely no tom
Dot Starlight
She's known as a dreamer
She isn't a schemer
She walks with her head in the sky
She loves outer space
But that would be the case
Her pet bird is always nearby
Poetry by Alan L. Loren
TM & © MGA Entertainment, Inc.