THE TRUE MEANING OF DEC. 25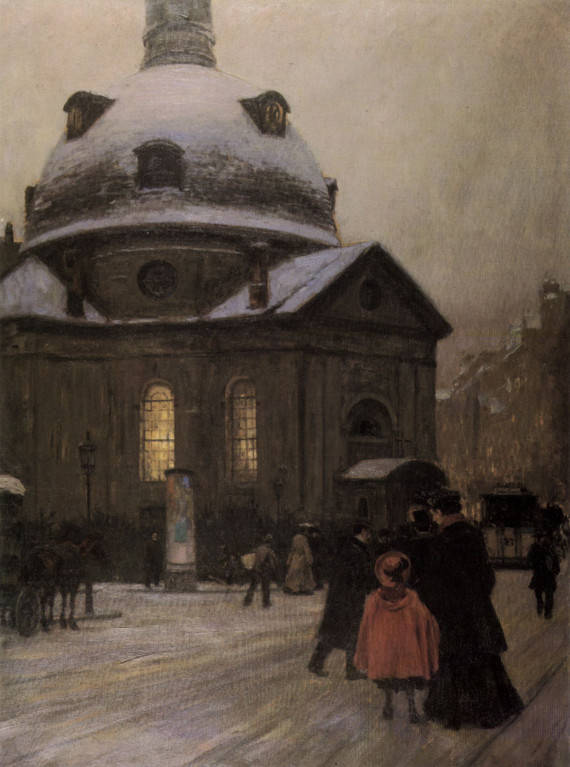 Böhmische

Kirche am Heiligen Abend by Franz-Skarbina
We sometimes ask ourselves, " what is a Christmas Poem ? " Is it about mistletoe, reindeer, jolly 'ole St. Nick? When we reflect on the way we celebrate the season, we might reasonably draw the conclusion that yes, all of these subjects make appropriate content for verses marking December 25.
However, when we dig deeper down in search of a more meaningful way to commemorate the day, we might draw a slightly different conclusion. Yes, all the trappings of the holiday; family, eggnog, time off from work, and especially the gifts, make it such a wonderful time of year. But lest we forget, we are marking the birth of Jesus, and the beginning of an idea that has permeated much of the world.
Many of our contributors choose to centralize this special meaning in their poetry.

It is our great pleasure to bring you a selection of religiously inspired Christmas verses written by a talented group of poets who form an important part of the My Word Wizard family.

We wish you all a blessed and meaningful Christmas.

A Christmas Poem
The snow is on the ground,
And the smell of pine is all around,
We can hear those wonderful carolers,
And all of those Christmas sounds.

Family and friends get together,
And open presents by the tree,
The kids are so excited,
They want everyone to see.

But let us not forget,
What this holiday is all about,
It is the birthday of our Savior,
And that is sure no doubt.

So let us never forget,
That we are so very blessed,
Our Savior made this all possible,
And he's none like the rest.

Merry Xmas
© Debbie Bongiovanni

2012
The Greatest Gift
When Christmas shopping is done,
wrapped gifts lie 'neith a tree
sparkling bright with tinsel and light
for everyone to see.

Each gift has been selected
with thoughtfulness and care.
Toys and such will mean so much
like all the gifts we bear.

But let us keep within our heart
the much greater gift than these.
One from above, with God's great love
should bring us to our knees.

A gift of birth to all on Earth.
A gift that's far from small.
To everyone, He gave His Son…
The greatest gift of all.
©

Ron Tranmer 2012
Simply a Babe
No pierced feet,
No crown of thorns,
Just simply perfection
In a newly newborn

No public outcast
No scandalous lies
Just simply Love,
Was there in a newborn's eyes

In time, He'd outgrow a baby's soft gurgle,
On His back,he carried the strain
and weight of our iniquities and struggles
and with Him we would FOREVER reign.
Though for now born under a bright star and angelic skies ,
Love .....lay there in a manger, On a bed of hay,
He was God's anointed Salvation....
For He came....just simply...
As a babe.
©

Elaine J. Hawkins 2012
A Mother's Christmas Wish
Dear Santa,

I really did try not to break down and cry,
As I prepare for our Christmas this year.
For these seasons are rough and it's hard saying bye,
And I'm fighting to hold back my tears.

I'll try and explain, as I live through the pain
of not seeing my son for a while.
I'll wait day and night, in sunshine and rain
for a chance to see my son's smile.

He left home today, in his own special way
and everyone will soon see.
He's a U.S. Marine, and it's time to go
fight so we can be free.

My son told me Mother, I will defend my brother
on land, in air and on sea.
If our roles were reversed, my Marine brothers
would defiantly be there for me.

Some people feel, it's no big deal
to serve our great country with pride.
Trust me, they're wrong, and it won't be long
they will be looking for a good place to hide.

I believe in my heart, God won't keep us apart
as I pray tonight and kneel.
For only God knows, the way it will go
and the pain a mother can feel.
©

L. Michael Hellums 2012
Christmas
Christmas is today
Everyone celebrates it in a different way

If it wasn't for Jesus we wouldn't be alive
So we celebrate it on December twenty five

Shepherds followed the star
Jerusalem was very far

A very special baby was born on that day
Jesus, Our Savior that was his name

©

Ann 2012
*Historical Information on Christmas is available on Wikipedia


We thank each of the poets for submitting their wonderful work that explore the question
"What is a Christmas Poem ?". They own all rights to their individual pieces and no portion
of their writings may be used without their permission.