GANGSTA LOVE POEMS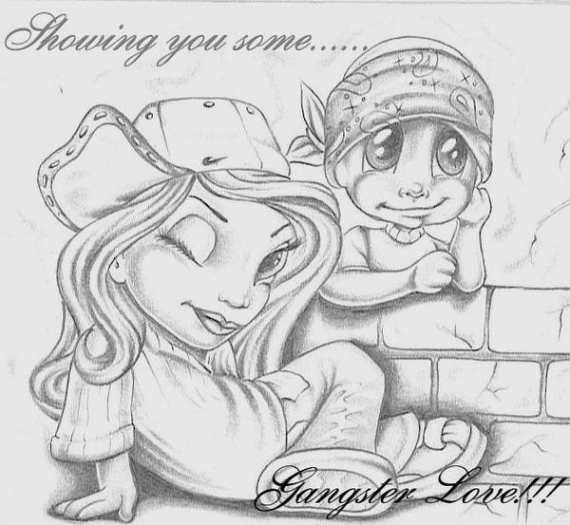 It ain't easy luvin' no gangsta. It ain't easy bein' a gangsta in luv. Our Gangsta Love Poems show there's substance beneath that gangsta exterior. Luv poems for gangsta's help you express all they mean to you in a very gangsta way.
Dime Piece
My ma told me to always look for a dime.
I've been scratching
And it's taken some time.
But then pow – I found you
When I was just hanging around.
My mouth fell open
And I lost that frown
You're my dime piece girl.
And you're so perfectly tight
Because of you, life's aight.

Haters
Don't listen to the haters.
Ya know you my boo.
All that trash talking;
They just trying to get to you.
She said she saw-
The word on the street –
Don't believe it's a dog just because
It lies near your feet.
Girl, you know only yo boy got your back
I love you wifey
But yo gurl's all whack.

My Boo
On the real, felt there was nuthin I couldn't do;
Chillen with the boys, figuring my next move.
You came out of nowhere;
So much more than a dime
With hips, legs, and thighs, girl-
Had to make you mine.
Now we been together for a minute
Girl, I know we in it to win it.
Want ya to know ya my boo;
I'll always be down with you.

Girl of My Dreams
Got the girl of my dreams, my ride or die boo.
For her love, there ain't nothing I won't do.
And when I'm on the block makin that money all night
Every hour my baby's callin, makin sure I'm aight.
There's something about her that makes me believe
I can be more than what most people see.
She gives me courage and holds tight through the strife.
Damn girl, I wanna make you my wife.

Bonnie and Clyde
Boy, you're my life even though you run the streets
It's all good cause I sleep on satin sheets.
Bonnie to your Clyde,
Riding forever by your side.
If the day ever comes and you should want out
I'll stick with you;
Of that have no doubt.
Even if our souls are marked
To die in a dim, unlit park,
Boy, know there's nothing I won't do.
I'd go to hell and back for you

From Above
I was a thug in the streets,
Wasn't lookin for love.
Then there you came
Like an angel from above.
You changed my way of thinking;
Girl, you touched my soul.
This lonely heart has been made whole.
To the ends of the earth I'd go for you,
And to prove there's nothing I wouldn't do,
I'd even shoot ole dude down the street -
He's always looking at you.

Poetry by Natasha Niemi